Shillong, May 24, 2023: The second phase of discussions on Assam-Meghalaya border issue was held today at Assam State Guest House, Koinadhara, Guwahati, Assam.
Briefing the media after the first official CM level meeting between the two states on the second phase of border talks to resolve the remaining six areas of difference between the two states, Assam Chief Minister, Himanta Biswa Sarma said, "From today the regional committees of both the states will start visiting the other areas where differences still exist. In June, both the Chief Ministers will visit Karbi Anglong and Jaintia Hills where presently some unrest is going on as a confidence building measure."
"The people on both sides will feel confident and they will be assured that both the States will resolve the differences, resolve the dispute with a spirit of the long existing friendship between the people of Meghalaya and Assam," he added.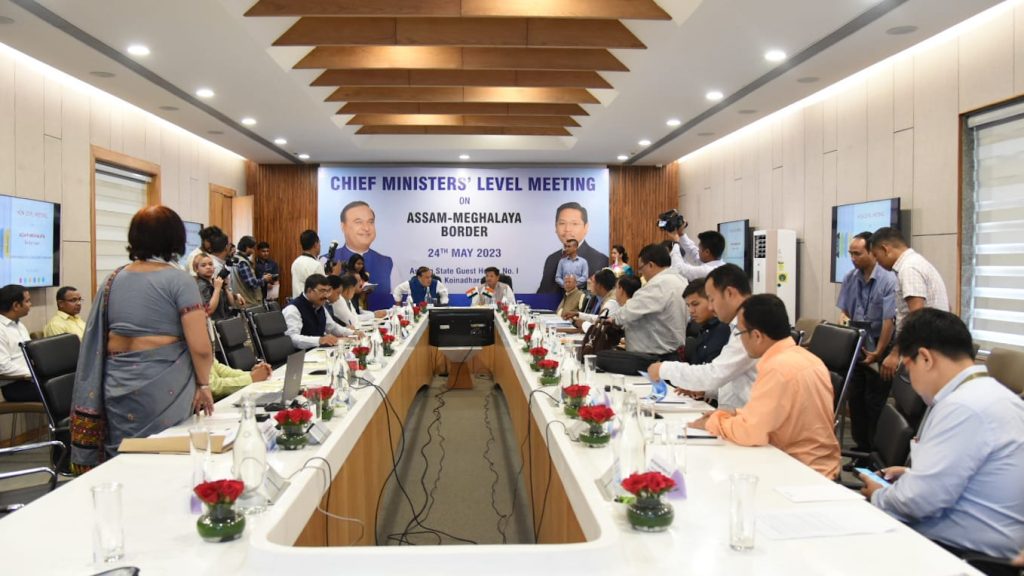 He was hopeful to resolve the issues and differences through the process of discussion and mutual trust and confidence. He also informed that the Regional Committees will submit their reports by July end after which a CM level review meeting will be held. Meghalaya Chief Minister, Conrad K. Sangma said that this is the beginning of the process to find a solution for the remaining six areas of differences. "We have asked regional committees to do fact finding and start the same process as was done for the first phase of talks. We will consult with stakeholders and we hope to get reports very soon," he said.
The Chief Minister of Meghalaya, Conrad K. Sangma also reiterated that the two CMs will visit West Jaintia Hills and Karbi Anglong where tension is still prevailing and appeal for peace and assure the people that through a process a solution will be arrived at.
"I am confident in the leadership of Chief Minister of Assam and Government of India, we will find a way to resolve the matter with mutual trust and friendship," he said while adding "at the same time we have asked the Survey of India to continue with their survey of the first six areas of differences and complete their surveys."
As a part of the ongoing process of border talks and as confidence building measures the Chief Ministers of Assam and Meghalaya will jointly visit West Jaintia Hills and Karbi Anglong areas in June where there has been a lot of unrest and conflict in recent times between the Karbi and Jaintia communities.