Tura, June 3rd, 2023: In line with the Government's commitment of upholding poll promises, Chief Minister Conrad K Sangma distributed resources for a range of welfare schemes to the people of Meghalaya. Majority of these schemes will work towards achieving the poll promises made during the recent elections. The schemes are primarily dedicated towards agriculture, environment, and the empowerment of the masses. Also present on the occasion were Minister of Agriculture and Farmers' Welfare Department, Dr. Ampareen Lyngdoh, Joint Secretary Gunanka D.B., IFS, Jagdish Chelani, IAS, and Dr. Subhash Ashutosh.
One of the key resources awarded by the government to the agricultural community at Tura are the PRIME Agriculture Response Vehicles. Effective logistics and supply chains can play a leading role in revolutionizing the state's agriculture sector. This is considering the state's hilly terrain and stratified food processing infrastructure. Chief Minister handed over keys of the first Agri-Response vehicle to 10 farmer organisations including Jangrapara IVCS Ltd, Chichang IVCS Ltd, Haripur Farmers' Society, Dondime Multipurpose Co-operative Society, Pangchakrik Multipurpose Co-operative Society Ltd. during the ceremony at Tura, emphasising the government's commitment to improving the agricultural sector in Meghalaya. These vehicles will not only provide timely and efficient transportation of agricultural produce but also help farmers access markets and improve their livelihoods.
The Payment for Ecosystem Scheme (PES) is a globally renowned scheme that makes village communities stakeholders in forest conservation. A total sum of Rs. 30,282,316 has been allocated for the successful implementation of this project, which aims to promote reforestation and biodiversity conservation in the region. In West Garo Hills, 16 villages were provided with Rs. 88,87, 600. Similarly, in East Garo Hills, 15 villages received Rs. 98,38,986; 15 villages in South Garo Hills were provided Rs. 46,98,090; and North Garo Hills' 14 villages were given Rs. 68,58,650. This funding was allocated for various conservation activities such as afforestation, protection of wildlife habitats, and sustainable use of natural resources. The initiative aimed to promote community participation and ownership in conservation efforts.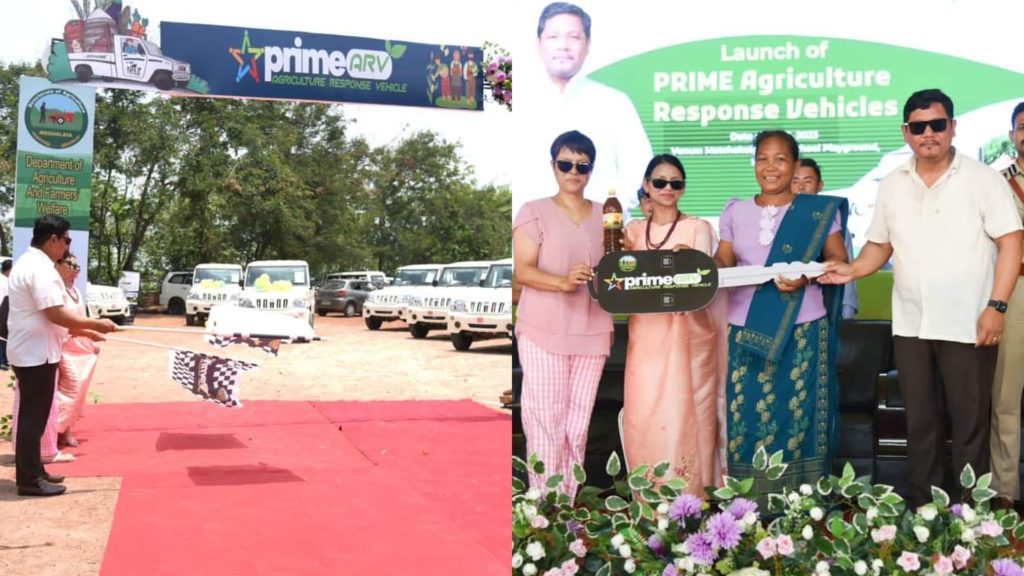 Addressing the citizens of Tura at the ceremony, Chief Minister of Meghalaya, Conrad K Sangma noted, "Our government's approach to growth and development has always been inclusive and focused on empowering the rural communities. We recognise that significant progress can only be made with the participation of people across our magnificent state. The results visible to us today are evidence of the government's consistent efforts over the past five years and an indication of what will be accomplished over the next five years. In the near future, Meghalaya will emerge as a shining example of progress and development after undergoing a profound transformation beginning at the grass-roots level. I would like to congratulate the students who are present today and wish them the best of luck in their future endeavours."
Speaking on the occasion, Minister of Agriculture and Farmers' Welfare Department, Dr. Ampareen Lyngdoh, stated, "I am delighted to witness the distribution of resources for a range of welfare schemes to the people of Meghalaya by Chief Minister Conrad K Sangma, in alignment with the government's commitment to upholding poll promises. These schemes, dedicated to agriculture, the environment, and the empowerment of the masses, will work towards achieving the goals set during the recent elections. I am sure these initiatives will propel the growth trajectory of the state and make lives of our citizens even better equipped towards self-sustainability."
The Seed Ball Initiative will facilitate access to resilient seeds that have demonstrated efficacy in restoring forest cover in remote areas that are difficult to reforest with conventional methods. Under the initiative, 594,000 seed balls have been distributed to 297 schools, with each school receiving 2,000 seed balls.
Conrad Sangma felicitated nine students who excelled in the recent HSSLC and SSLC examinations. Academic success is rewarded as part of the government's larger empowerment strategy. Furthermore, to empower teachers throughout the Tura region, 96 schools in West Garo were awarded portable EdTech devices – KYAN kits, with 700 more schools set to receive the same kits.