DONITRIO N MARBOH
Just in the past few days a viral video has been circulated by many of the news channels in Shillong on matters under the caption "Khie bitar puk ki nongniah kali tourist ba pyndait klam ki pulit ia ki kali". The crux behind this agitation was that the police who used to patrol on this stretch was unable to response when a query which was asked on the difference between the commercial vehicles and private vehicles, since most of the prohibition like No Parking were applicable and imply strictly only for commercial vehicles or lets say tourist taxi. To support the above statement a pic is being attached depicting itself an elaboration whether the above statement is true or false.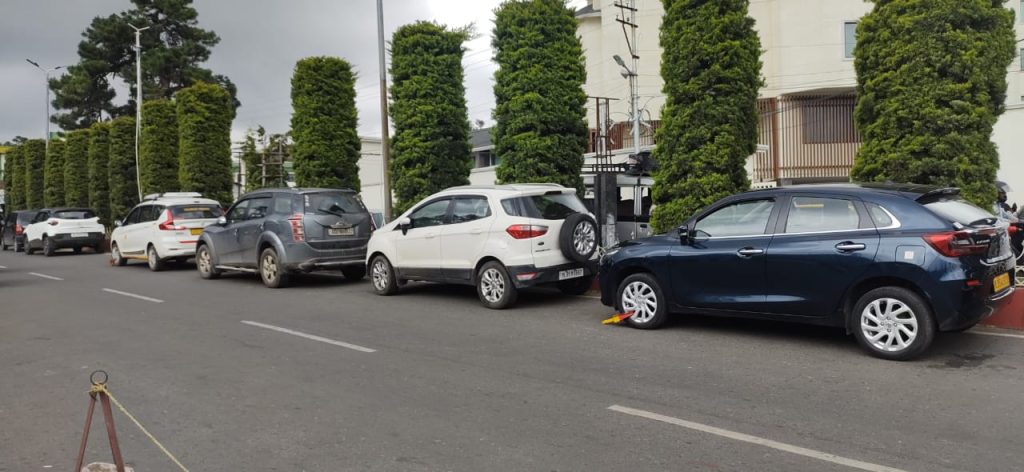 Taking from the bottom right corner of the picture a blue baleno bearing yellow plate indicating as commercial vehicles has been clammed, as we proceed towards the next row we can see a vehicle bearing white plate indicating private vehicle is not being clammed, as we proceed towards prior to the next row we could also notice that the vehicle is a private vehicle and is not being clammed.
Whereas, when we proceed toward the extreme left we could see that the vehicle bearing a commercial plate has been clammed. The writer does not have any bad feeling or jealousy against the private vehicles, but the sole purpose of this specific content was to treat all citizen as Equal whether he is driving a local taxi, an auto or any luxury cars.
The constitution of india guaranteed that, as per the FUNDAMENTAL RIGHT, PART III, under the Article 15 Right to Equality which state that "(b) the use of wells, tanks, bathing ghats, roads and places of public resort maintained wholly or partly out of State funds or dedicated to the use of the general public.
Now the question is put forward to the sardar police station if the particular place which is just besides the old Assembly building is allocated or reserved for VIPs and other private vehicles why it is not allowed for commercial vehicles to park on the same. If the VIPs and private vehicles has four wheels so does the commercial vehicles has, considering the body specifications of vehicles, all cars take spaces to park on the road side not just the tourist taxi took lots and lots of space as fantasized by them.
The writer humble appeals and urged upon the Hon'ble MLA of the North Shillong to take this matter and issue as priority since these incidence took place under his constituency. I would be very much obliged if this matter resolved ambiguously, since it is matter concerning towards life and death on the livelihood of the professional Drivers.