Shillong, October 29 : The city of Shillong received the award for "City with the Best Record of Public Involvement in its Transport Planning" for the project "Shared Commuter Service in East Khasi Hills (Shillong)", an initiative implemented by the Sustainable Transport and Efficient Mobility Society (STEMS)", on the occasion of the 16th Urban Mobility India Conference and Expo 2023, held from 27th to 29th October 2023 in New Delhi.
Manoj Joshi, Secretary – Ministry of Housing and Urban Affairs, Government of India presented this honour to STEMS on Sunday, October 29, 2023. Isawanda Laloo, IAS, Secretary to the Government of Meghalaya and CEO of STEMS, along with the STEMS team members accepted the award. Other cities which received awards under different categories in the event included Delhi, Lucknow, Srinagar, Bhubaneswar, Kochi, and Jabalpur.
This is the first national recognition for STEMS, which was conceptualised in the year 2021 by the Planning Department, Government of Meghalaya. STEMS's first initiative hit the ground in 2023 with the release of 30 school buses catering to various chokepoints of the city of Shillong. Equipped with CCTVs and utilising GPS tracking enabling real-time updates to parents, each of the buses is staffed with trained caretakers and routes were designed after multiple rounds of consultations with public and government stakeholders. The implementing partners of STEMS include the Meghalaya Transport Corporation, NIC Meghalaya and NIC Uttarakhand, with close assistance from Shillong Traffic Police and the Public Works Department (Roads).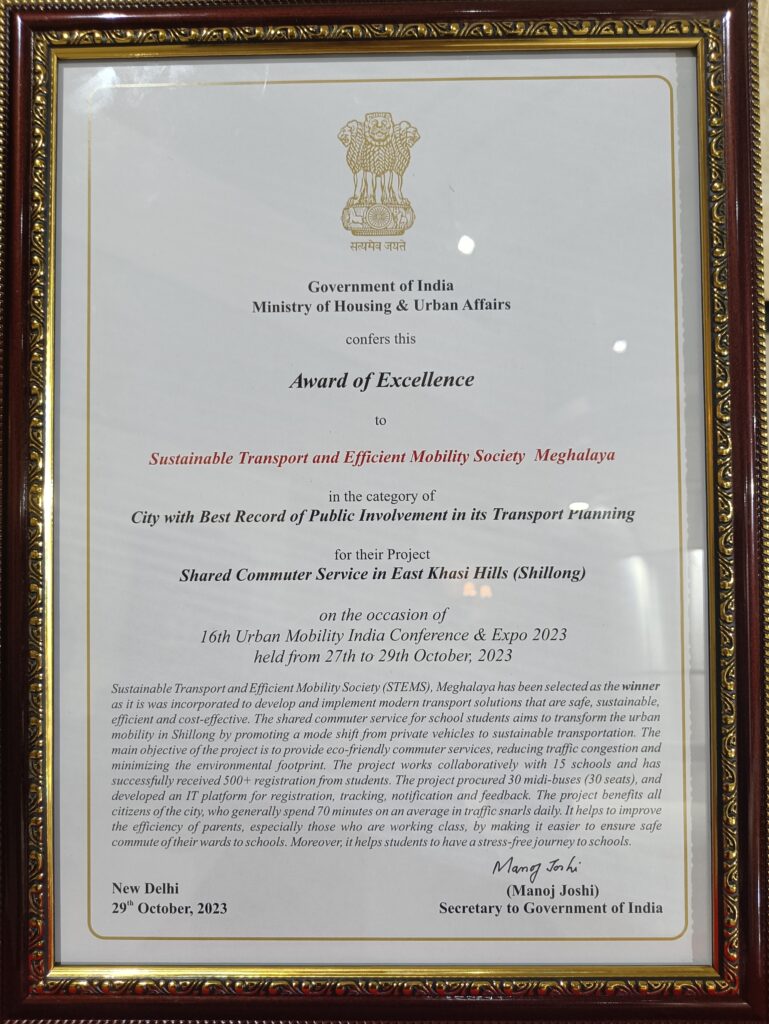 The award was conferred to STEMS for its exemplary involvement of various stakeholders, most notably, community members, school authorities and parents apart from exhaustive consultations with government departments like the District Administration, East Khasi Hills, Shillong Traffic Police, PWD, MTC, and others while planning and designing the intervention. In its pilot initiative of introducing a shared bus commute system for 15 schools in Shillong City, the project has garnered favourable responses and obtained positive feedback from parents and students. The project is aimed to benefit the citizens of the city, who generally spend 70 minutes on average in traffic snarls daily. With the increase in student registration, the introduction of multiple routes and increased awareness of the project, it is expected that the rollout of the entire fleet will significantly reduce the congestion on the roads while also ensuring a safe and comfortable commute for students.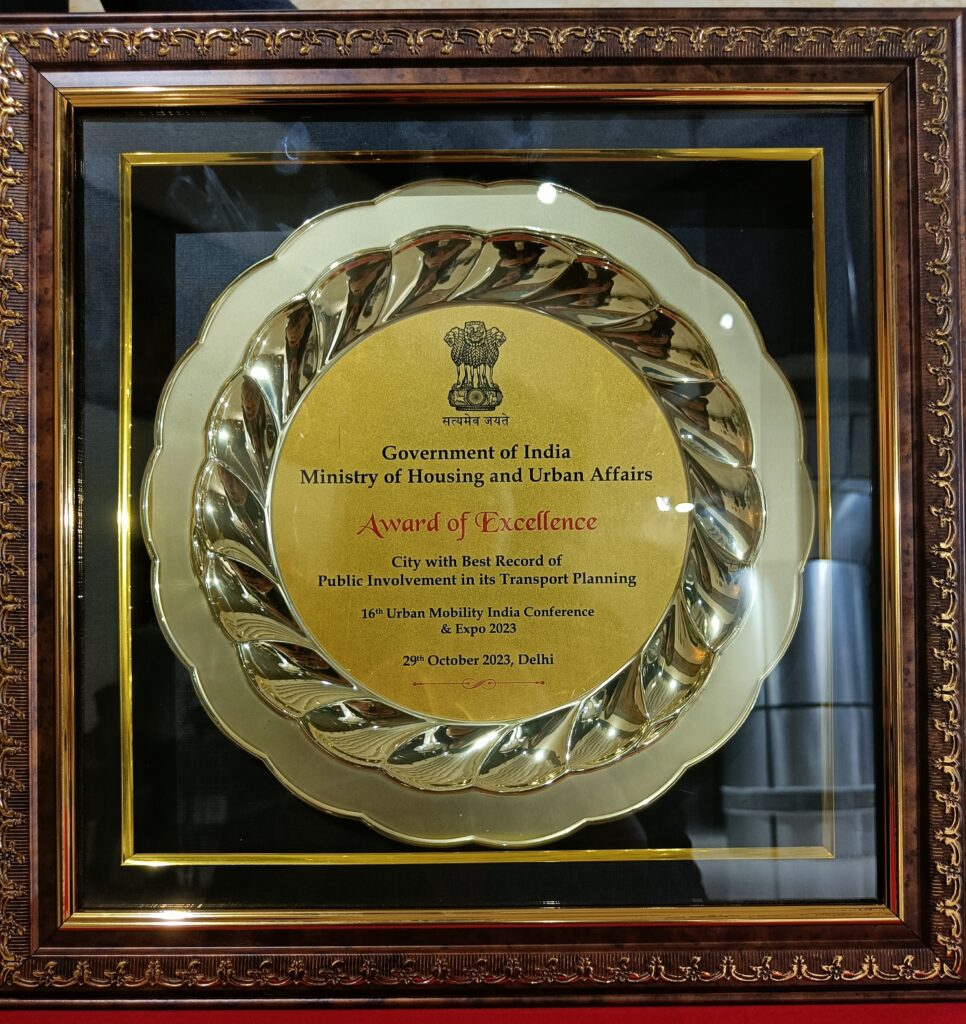 The annual Urban Mobility India (UMI) Conference and Expo is a flagship event held under the aegis of the Ministry of Housing and Urban Affairs, Government of India. The event is inaugurated by the Union Minister of Housing and Urban Affairs. The genesis of UMI is from the National Urban Transport Policy of the Government of India, 2006 (NUTP), which lays a very strong emphasis on building capabilities at the State and city level to address the problems associated with urban transport and undertake the task of developing sustainable urban transport systems. The theme of the 16th Urban Mobility Conference and Expo 2023 was Integrated and Resilient Urban Transport.